About Typewolf
I launched Typewolf as a side project in June of 2013. Working as a designer, I was always frustrated by the lack of good resources for choosing fonts for design projects. Seeing type samples set in "the quick brown fox jumps over the lazy dog" isn't very useful when it comes to web design—seeing how real type performs on actual websites is much more helpful.
I've also noticed that other typography sites tend to be written from a type designer's perspective rather than from the perspective of someone who actually uses type in their day-to-day work. I've been a designer for 16 years, so everything on Typewolf is approached from a designer's perspective.
My goal is to make Typewolf the absolute best resource available for everything related to typography on the web. Typewolf will always remain an independent site that features typefaces from all type foundries regardless of where the fonts can be purchased.
---
What Designers Say About Typewolf
How to Support Typewolf
Typewolf is a bandwidth-heavy site that gets over 350,000 unique visitors and over 1,000,000 pageviews every month. I spend several hours every day working on it and hundreds of dollars a month to keep it running. The site has been updated daily since June 2013 and there are over 600 font pages, each with a custom description, listed alternatives and suggested font pairings. It has been a massive amount of work for one person to create and keep updated. I choose to keep Typewolf ad-free. I have nothing against advertising; I just don't want ads on Typewolf.
Approximately 99.9% of site visitors don't financially support the site in any way (which is fine) but if you would like to help make Typewolf a sustainable side project and keep the site running for years to come, then here is how you can help:
The preferred way to support Typewolf is to purchase one of my products—Flawless Typography Checklist, The Definitive Guide to Free Fonts or Typewolf's Guide to Typekit.
Buy a Typewolf shirt!
If you buy fonts at MyFonts or Fontspring through the links on this site, Typewolf will receive a small commission.
Share Typewolf with your friends and colleagues—this site has grown entirely by word-of-mouth, so a link on your blog or a mention on Twitter would mean the world to me.
Any kind of support is much appreciated. ♥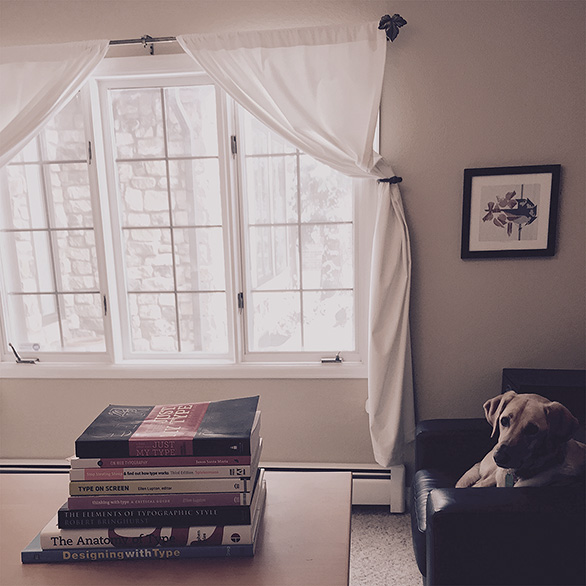 Submit a Site
I only accept site submissions from people on my email list. This helps to make sure everyone understands the general aesthetic of Typewolf and builds more of a community feel. I like to think of my list as Friends of Typewolf.
I typically send out one or two email updates a month, including my monthly typography news roundup. To submit a site, simply respond to any of my emails—just say hi and share your link. It's fine to submit your own work but sharing other sites you find with nice type is always appreciated.
If I don't feature your site, it doesn't mean that I don't like it—I just receive way more awesome sites than I'm able to feature.
Join the Typewolf Email List
If you would like to submit a site, please see the instructions above. Otherwise, use this email address:
Typewolf Logos & Media Kit
If you'd like to feature Typewolf somewhere, here is a ZIP file you can use with logos, badges and images:
Colophon
Typewolf uses Domaine Display for headers and Domaine Text for body copy. The Typewolf logo is set in Romana. The site was built with Zurb Foundation and Statamic. Hosting is provided by DreamHost and my email list uses ConvertKit.