I couldn't keep writing these forever—it's finally time to say goodbye. Begin here and travel back through 56 months of nice type.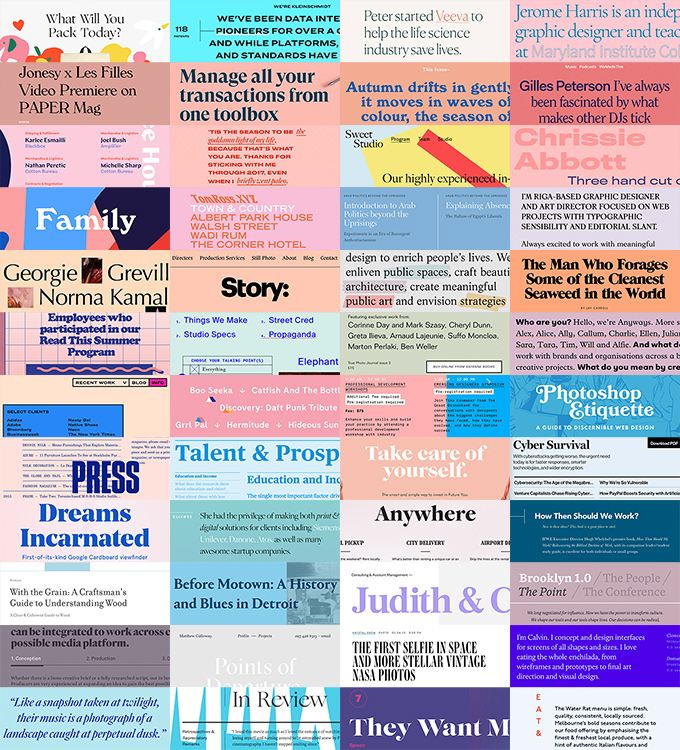 I started writing these monthly favorite site roundup posts way back in March 2014, about nine months after I launched Typewolf. I wanted a way to highlight my favorite sites featured on Typewolf and to write about the typographic details behind the designs.
I've enjoyed writing these posts over the years, but lately it has been harder and harder to come up with new things to say every month. I often feel like I'm repeating myself. I think I'm just getting a little bored with this format.
I haven't missed a single post (even through the births of two babies), so I've been questioning why exactly I'm so blindly dedicated to keeping these going. I know the posts probably seem easy to write, but I actually spend quite a significant amount of time each month putting them together.
It's also becoming more difficult to just pick a handful of favorites each month. The quality of the daily featured sites has improved over the years to the point where each one could be a contender now.
So in short, I just don't feel the need to keep writing these any longer.
I wanted to make it to 60 posts so it would be an even five years, but once I made the decision to stop I just kind of lost all remaining motivation to continue. So I'm throwing in the towel early…
Onward to Better Things
I'm still working on Typewolf full-time—I'm just going to be spending more time on other things now:
Higher quality curation for the daily Site of the Day section (this is why you visit Typewolf in the first place).
Keeping my products updated (this is what pays the bills).
Making more top 10 font lists.
A huge backend overhaul is planned with tons of new features (like you'll actually be able to search Typewolf).
My monthly newsletter will be switching to a new weekly format which will take more time to curate.
Thank you to everyone who has been reading these posts over the past five years.